Simplified Format Added For As Packaged/As Prepared FDA Nutrition Labels
Posted on January 09, 2020 by Lev
We recently added the simplified format to our As Packaged/As Prepared (Dual Declaration) FDA nutrition label formats to our nutrition label maker. This previously was an option only for the standard Vertical, Tabular, and Linear formats, but it was simple enough (ha!) to add it here too.
It works the same way as it does for the other formats:
We check if the recipe and label

qualify for the simplified format

.
If so, we include the simplified format as an option under the "Optional Nutrients" menu on the left hand side of the page.
If you choose it, the

optional nutrients that are listed as "0" are removed

from the label.
If you unclick it, they reappear!
Keep in mind that the qualification is based on the base As Packaged recipe, not the As Prepared one, so keep that in mind.
See how it works below. We started having a little fun making GIFs, so you get an animated GIF of this feature :) Any questions, just let us know in the comments or reach out!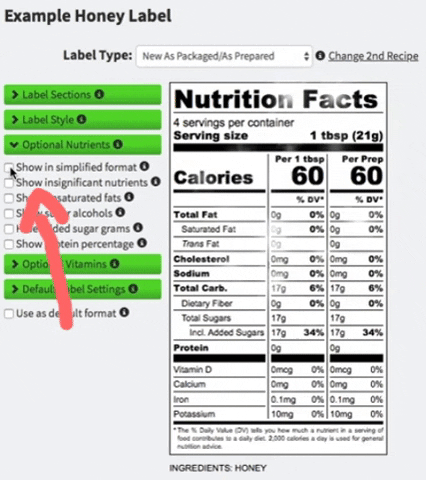 Learn something? Check out similar posts:
Recipal Features
Learn why
hundreds of food entrepreneurs already use ReciPal to manage their recipes, costs, and create nutrition labels.
Sign Up Absolutely Free
Just want lessons on growing a food business?
We're learning a lot and so will you.
~1 email per month. Your information will not be shared.